ticketing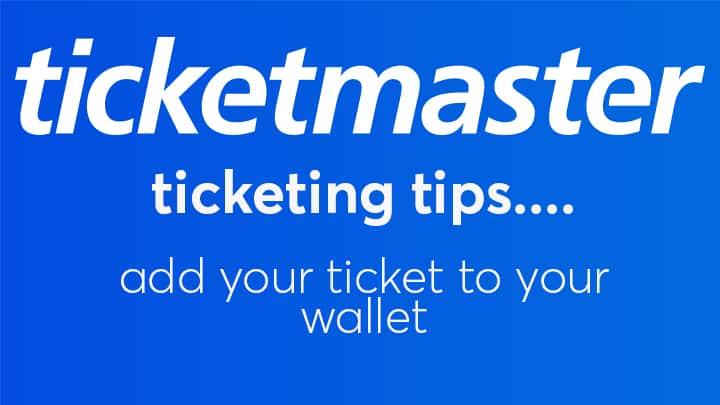 How To
How to…add your ticket to your wallet
Wallets are no longer just for cards, money, and pictures of your children(or pets)...Get adding those tickets now!
---
Getting ready for that big event you've been looking forward to? Why not make things quicker, easier, and smoother for yourself by adding your mobile ticket to your device's wallet in advance? Here's how you do it 👇
---
Here is a handy guide on how to do this on both Apple & Android devices
Firstly, download the Ticketmaster App for your region
---
For Apple Devices 👇
---
For Android Devices 👇
Now all that's left to do is scan your ticket at the gate and go and enjoy the show!
---
FAQ's
Add your ticket to Wallet – What does this mean?
Digital tickets make attending concerts hassle-free. For many events, rather than waiting on the postman to deliver those precious tickets to your favourite artist, you can download your tickets to your phone.
Instead of handing a piece of paper to a friend you have purchased a ticket for, you can transfer your digital tickets in the Ticketmaster App. No more searching frantically through your drawers for those tickets as you're leaving the house. You can find a quick guide on transferring tickets HERE.
What else can we do though to ensure that digital tickets are always available on our phones, even when there is no cellular or WiFi connection available?
"I always have data on my phone" – is that what you're thinking? Mobile phone networks have cell towers that serve local populations, but when large events are taking place there may be a huge number of people arriving in the vicinity, all requesting service from a cell tower that normally needs to serve only a fraction of that amount. The result can be that cellular coverage in the area of large events becomes limited or can disappear entirely for a period.
Just viewing your tickets on a browser, or in the Ticketmaster App, does not guarantee the barcodes will load again when you arrive at the gates. By adding your tickets to your phone 'wallet' facility before you leave the house or before you arrive at an event site, your tickets will always be available, even when there is no wifi or cellular coverage.  Your tickets will be available in the wallet with any store cards or credit cards you have added.